Centrifugal Fans and Blowers
A centrifugal fan or blower is a pump or motor that moves air. It draws air into the blower and pushes it out at a 90º angle. The two main parts of the centrifugal fan are the motor and the impeller. In contrast to the propeller that pushes the air, the impeller sucks in or pulls the air.
TSLBlower is a leading manufacturer of centrifugal fans and blowers located in China. We can design, manufacture and deliver heavy duty industrial process centrifugal fans and blowers. Specializing in centrifugal industrial process fans means we can operate quickly and leanly, with consistently high quality and reliability.
Manufacturing systems of manufacturers from all walks of life inevitably use centrifugal fans to move air, gasses and raw materials to produce a final satisfactory product. Centrifugal Fans & Blowers drive air and therefore act as all types of change agents, whether in materials, assembly or the environment.
Types of Centrifugal Fans and Blowers
Centrifugal fans come in a variety of designs. Our application engineers design all centrifugal fan and blower components to fit the application. Some common design criteria are motor size, fan blade shape, direction of rotation, and materials of construction. Types of centrifugal fans & blowers include
Forward-Curved Blowers
Backward-Inclined and Backward-Curved Blowers
Radial Blowers
Airfoil Blowers
Double centrifugal
Furnace Blower
Belt-Drive Commercial & Industrial Blowers
Transflow Blower
Each centrifugal fans and blowers type has its own unique characteristics. Which industrial fan type is needed in your actual working environment in order to achieve efficiency and reliability? It depends on the air flow, static pressure and the object the fan is handling (clean air, mild particles or highly abrasive materials). It's okay if you don't understand these influencing factors, because you can then work with us and let me specify the right fan for your centrifugal Fans & Blowers application.
Centrifugal Fan and Blower Safety and Maintenance
TSLBlower manufactures, tests and rigorously inspects industrial centrifugal fans and blowers designed to meet the highest levels of quality and safety requirements. Every shipment comes with AWS standard certification and quality control documentation. Our products are also CE certified and ATEX approved.
Proper maintenance and care is critical to the proper operation and long life of centrifugal fans and blower wheel. In any case, our centrifugal fans and blowers are easy to maintain. To contain gases or materials in the air stream, add protection and extend the life of our products, we add special finishes, including industrial enamels, specialty coatings, powder coatings and custom linings.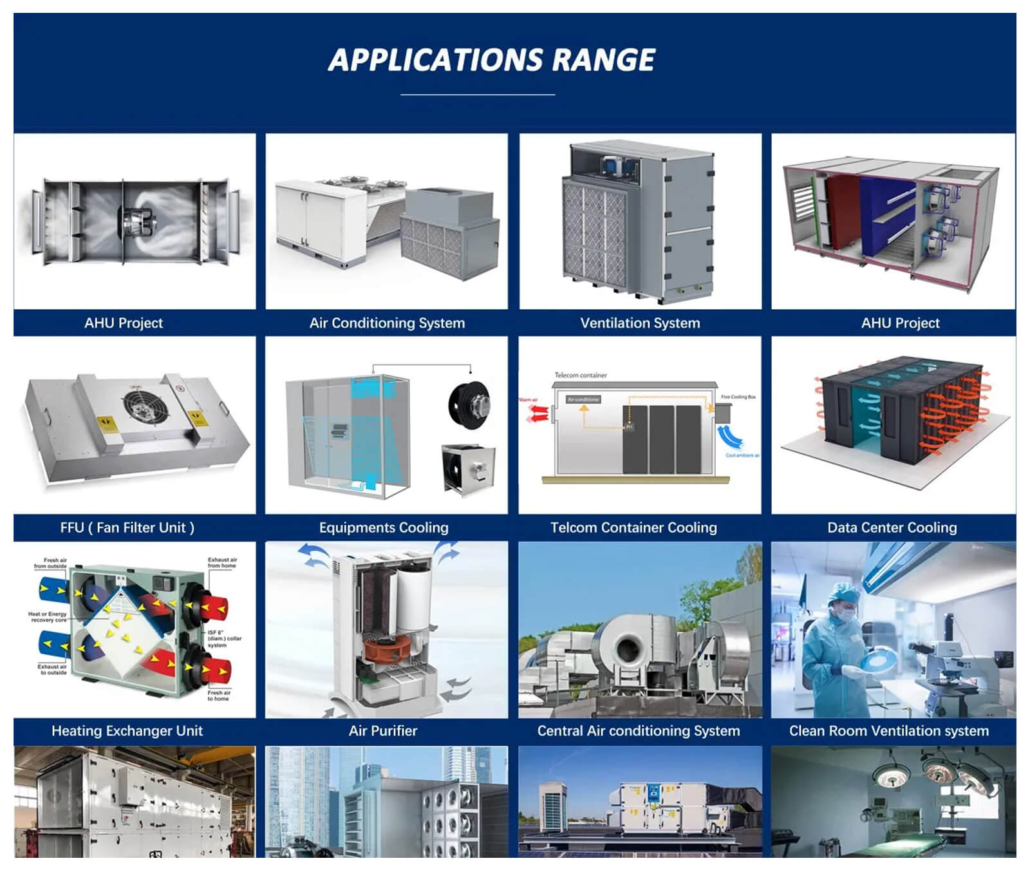 5 common centrifugal fan applications:
Clean air treatment
In industrial operations and facilities, air flow is always part of the process. Air handling fans support your operation and nearby ambient air. The process ranges from industrial system components to replenishment air units to removal to renewal. We specialize in the design and manufacture of centrifugal fans for your industrial clean air handling applications. Learn more
Light dust load
Industrial processes use light dust carrier and smoke exhaust fans as part of an overall dust removal system to improve air quality and safety. They move air and materials through the system to capture, collect and transport particles through the various parts of the system. These can include range hoods, air filters, dust collectors (such as bag dusters), traps, and, of course, piping systems. Learn more
Handling of materials
Centrifugal material handling fan can handle sand, plastic particles, sawdust, wood chips, grains, paper scraps, pet food and countless other particles. They range from small and light to larger, heavier and more wear-resistant. Over the years, AirPro has been innovating with customer input and building industrial material handling fans to improve efficiency and durability. Learn more
Saturated fan
Centrifugal exhaust fans often deal with saturated air, which means the air contains moisture or various gases. These applications usually require heavier materials (such as stainless steel) and moisture-resistant coatings (such as epoxy resins). When we design custom fans, we start with the right type of fan and then adjust the materials, finishes and other specifications. Learn more
The high temperature
Many industrial processes depend on high temperature process heat. Operations such as heat treatment, stress relief, industrial ovens and ovens use convection to circulate hot air in a room. These process flows require specially designed centrifugal fans. When fans are used at temperatures higher than they are designed for, fans that are not properly designed for this purpose will fail catastrophically. Learn more
Customized centrifugal fan
Industrial fans need to meet a specific set of design criteria. We recommend working with AirPro fan selection experts to design the best fan for your application. You will work with industry leading fan engineers to create customizable solutions to meet your project requirements and budget.
https://tslblower.com/wp-content/uploads/2022/12/Centrifugal-Fans-and-Blowers.jpg
600
1920
jarontsl
https://tslblower.com/wp-content/uploads/2022/11/Dongguan-Linyue-Electric-Technology-Co-300x138.png
jarontsl
2022-12-04 12:11:34
2023-03-05 12:55:37
Centrifugal Fans and Blowers